Ιδρύματα – Μουσεία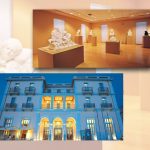 Tinos Town
TINOS
84200
CULTURAL FOUNDATION OF TINOS ISLAND
Cultural events, Congress and Exhibition Centre
The Cultural Foundation of Tinos is housed in a neo-classic building located next to the island's port. Devoted to the research and promotion of the island's history and cultural heritage, it hosts a permanent exhibition of works of sculptor Yannoulis Halepas as well as temporary exhibitions relating to Tinos and Tinian artists.
The Cultural Centre provides 4 fully equipped congresses, seminar and meeting halls, a library, an Internet room, and a cafe with a view of the Aeagean Sea. Reproductions of selected works of Halepas,
reproductions of Cycladic figures by the Museum of Cycladic Art and books relating to Tinos are available for purchase at the Cultural Centre's shop.