You should have in Tinos…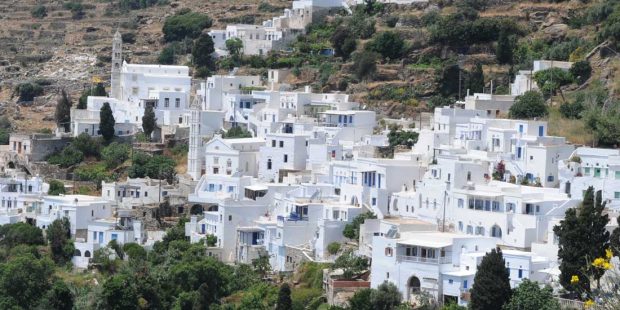 …to watch the sunset at Pasakrotiri or at the old port of Stavros in Chora.
…to listen to the silence and to look for figures on the rocks in Volax and Livada.
…to lose the sense of time shopping on the old tiled road of Panagia – and to rejoice drinking coffee and eating home-made doughnuts at the caf´e in the small streets of the Town of Tinos.
…to relax with ouzo and meze after a swim in Kolimbithra.
…to walk under the medieval arches in Tripotamos.
…to learn about the past grandeur of the Ursulines and Jesuits  in Loutra.
…to climb on the dunes of Pachia Ammos.
…to discover your favourite attic window at the handmade village of Pirgos, before you relax (eating a galaktomboureko!) under the cool shadow of the plane tree at the main square.
…to swim enjoying the splendid reflections of the marble green sea-bottom in Koumelas and Mali.
…to cycle next to the waves with a view on Delos, in Agios Fokas.
…to taste gourmet variations of traditional dishes
…to visit the houses that gave birth to international artists like Halepas in Pirgos and Gyzis in Sklavochori.
…to read the hope and the pain on the thousands of offerings to Our Lady Full of Grace (Megalohari).
…to meet people, to surf or to have a drink at the sound of a strong beat at the beach in Agios Fokas.
…to drink water from the source in Kardiani and to dance traditional dances till early in the morning at its festival.
…to go for a walk on the path of the dovecotes in Tarambados.
…to experience the absolute chill out at the bars with a view on Syros or Mykonos and the boats sailing off in the night to the islands.
…to arrive in Apigania or Santa Margarita by boat or on foot, for unforgettable diving and the sense of being alone on earth!
…to make some panoramic pictures with background the islands, from the venetian castle in Exomvourgo.
…to experience music soirees under the stars at the summer festival, in the villages of the inner island.